January 9, 2023

Virginia Seafood Economic Impact Study

The Virginia Marine Products Board has released the 2019 Virginia Seafood Economic Impact Study. The study was conducted by the
Virginia Tech, Virginia Seafood Agricultural Research and Extension Center and includes figures from 2019. According to the study the
Virginia commercial seafood industry provides over $1.1 billion dollars to Virginia's economy  and generated over $26 million in tax revenue from local, state, and federal taxes. The study also finds that Virginia's commercial seafood industry supported over 7,000 jobs in state. It is also important to note that this study did not provide numbers on any out of state transactions or job creation and the study also did not include any retail or restaurant sales. Posted below you will find a link to the full report, an infographic with figures from the study, and a fact sheet with important information from the study.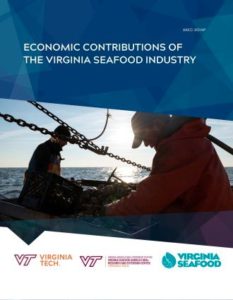 Virginia Seafood Economic Impact Study